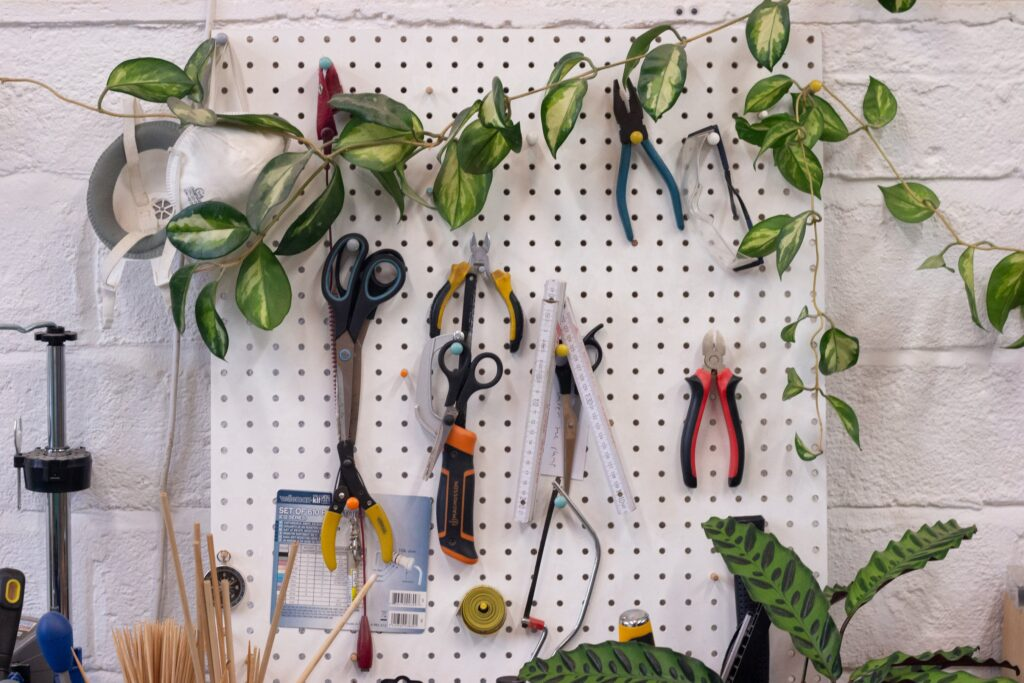 Open call: algorithmic pattern research resident
Deadline: 31st August, 2023 BST
(the form will close at midnight)
We (Then Try This) would like to host a paid resident to explore algorithmic patterns. Residencies are a chance to step away from your usual situation, working in new surroundings, on a new topic, for a short period of time. You can use the time to develop risky new ideas or develop an existing project, with our support.
What are algorithmic patterns?
Algorithmic patterns can be found in a diverse range of heritage and contemporary practices, prevalent in the performing arts and crafts. They are marked by having structural systems based on simple rules that when combined can produce works of astonishing complexity. Examples include drafts in shaft weaving, site swaps in juggling and teermana in Carnatic music, along with computer-based examples such as bytebeat and bitfields in the demo scene, and pattern-based live coding environments in electronic music performance. We hope this call will reach all those interested in patterns, whether or not they use computers in their work.
You can get a feel for the breadth and depth of this theme by browsing the algorithmic pattern discussion forum (also known as the algorithmic pattern catalogue, or 'alpaca' for short): https://forum.algorithmicpattern.org/
Who can apply?
We don't want to be prescriptive about what you do. You might be an artist, designer, maker, tinkerer, weaver, musician, chef, writer, paper folder, juggler, grower, scientist, poet, dancer… or something else. We encourage applications from people who would not normally respond to opportunities like this.
You must:
for an in-person residency, have the right to work in the UK
have an active practice in a pattern-related field, whether juggling, braiding, architecture, origami, music, or something else!
have a question, idea or curiosity that you'd like to explore or develop through a 2 week residency
be comfortable with sharing your work/findings, using open source/creative commons licences (we can help you with this if it is new for you)
We can offer you:
£250 per day
Studio space with a range of equipment
Travel (train/ferry) and accommodation
Materials and access requirement costs
Mentorship
Organisational support, e.g. we could potentially organise a public workshop or other event around your residency if it would benefit from this
Duration: 1-2 weeks (i.e., 5-10 working days)
Timing: We are flexible, but anticipate the residency taking place during late 2023 or early 2024.
Location: One of our studios (Sheffield or Penryn, UK), remote/online work, or a combination
Outcomes: By hosting you, we hope to gain insights into "Algorithmic Pattern" as a developing theme, and support you in developing your practice.
Access and inclusion: Within our small team of six, we have LGBTQIA+ and chronic illness representation, a wide range of social and economic backgrounds, and Global South and Global North representation. We welcome and actively seek diversity as it brings the breadth of perspectives, ideas, knowledge and culture that is essential to our organisational aims. We are based between Cornwall and Sheffield. Our Penryn studio and the building, kitchen and studio are wheelchair accessible (the toilets are accessible aside from a heavy door, but this can be propped open). Our Sheffield studio does not currently have step-free access. The toilets are gender neutral in both locations.
Deadline: 17:00 (BST), 31st August, 2023
To apply you will be asked to provide:
contact information
overview of your practice
example of your work
the idea you would like to explore and/or build during the residency
the areas of support / mentorship you wish to receive to develop ideas
Apply here: application form
Questions and answers:
Residency fee? The fee is intended for those able to work freelance. If you are are already employed full time for such work, you are very welcome to apply for an unpaid residency. Please get in touch if you would like clarity on your particular situation.
Travel? For environmental reasons, we support low-impact travel options or remote work.
Remote working? – We are happy to support remote working for part or whole of the residency period, whether due to health or environmental concerns, caring responsibilities, or access requirements.
What is a 'research resident'? As a non-academic, non-profit, open access, independent research organisation, we take a broad, engaged approach to research. You could be an artist, craftsperson, academic or something else, wanting to take your work in a new direction. As a research resident you should have a question or idea you want to explore during the residency, without any strictly pre-defined outcomes.
Who will own the outcome? All outcomes created by you will be owned by you. Shared outcomes must use an open license (open source / open hardware / creative commons).
How can I increase my chances of success? Be realistic, given the number of days that we are able to fund. Be clear about the connection between your practice and the Algorithmic Pattern theme, and about how you hope to benefit from the residency and our mentorship. Think in terms of human-centric contemporary and heritage technologies, rather than current fashions e.g. in AI.
Where does the funding come from? This residency forms part of our Algorithmic Pattern project lead by our research fellow Alex McLean, which is funded by Future Leaders Fellowship grant from UK Research and Innovation.
If you have any other questions, please email: alex@thentrythis.org