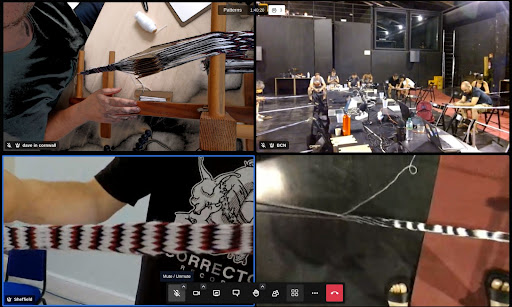 Back in the summer of '22, Dave Griffiths, Lizzie Wilson, Iván Paz and myself Alex McLean ran a workshop introducing tablet weaving to live coders (musicians who manipulate algorithms to make their music or other performing artform), to introduce them to ways of thinking about the algorithmic patterns they work with from the standpoint of heritage craft. We recently repeated the workshop at Adela Festival in Ljuljbana to a broader group of people. It's great to see people get completely engrossed in experimenting with threads, a 2.5-hour workshop seeming to pass in an instant, with each participant producing handmade textile belts documenting the mistakes, decisions and experiments made.
If you're curious to read how these workshops go, we surveyed the participants of the previous workshop, writing up their and our reflections in a paper "Patterns in Deep Time", presented at the mighty XCoAx conference.
Griffiths, Dave, Elizabeth Wilson, Iván Paz, Alex McLean, Joana Chicau, Flor de Fuego, Timo Hoogland, Eloi Isern, Michael-Jon Mizra, and Robert Pibernat. 2023. "Patterns in Deep Time." In Proceedings of the 11th Conference on Computation, Communication, Aesthetics & X (XCoAx). Wiemar, Germany. https://doi.org/10.34626/xcoax.2023.11th.277.